WHICH KITE IS RIGHT FOR YOU?

Your Dynamic Snippet will be displayed here... This message is displayed because you did not provided both a filter and a template to use.

A-SERIES

A = FULL ALUULA AIRFRAME

At the pinnacle of the technological advancements and opportunities that our work alongside ALUULA Composites has provided sits our A-Series kite range, which all benefit from the ultra-light and ultra-strong ALUULA airframe, and are now lauded as the most cutting-edge kites in the sport.
When we first revealed our work with ALUULA to the kitesurfing world, there was reasonable and valid debate as to whether the hype would really match up to the material's potential, and to the performance levels that we were promising. Happily, as has since been proven and documented, the hype has gone beyond everyone's expectations.
Lighter, stronger, with higher performance levels and a bigger wind range than standard kites, the A-Series have set the new standard in high-end kiteboarding… a standard that continues to develop as we explore the endless possibilities that ALUULA presents us.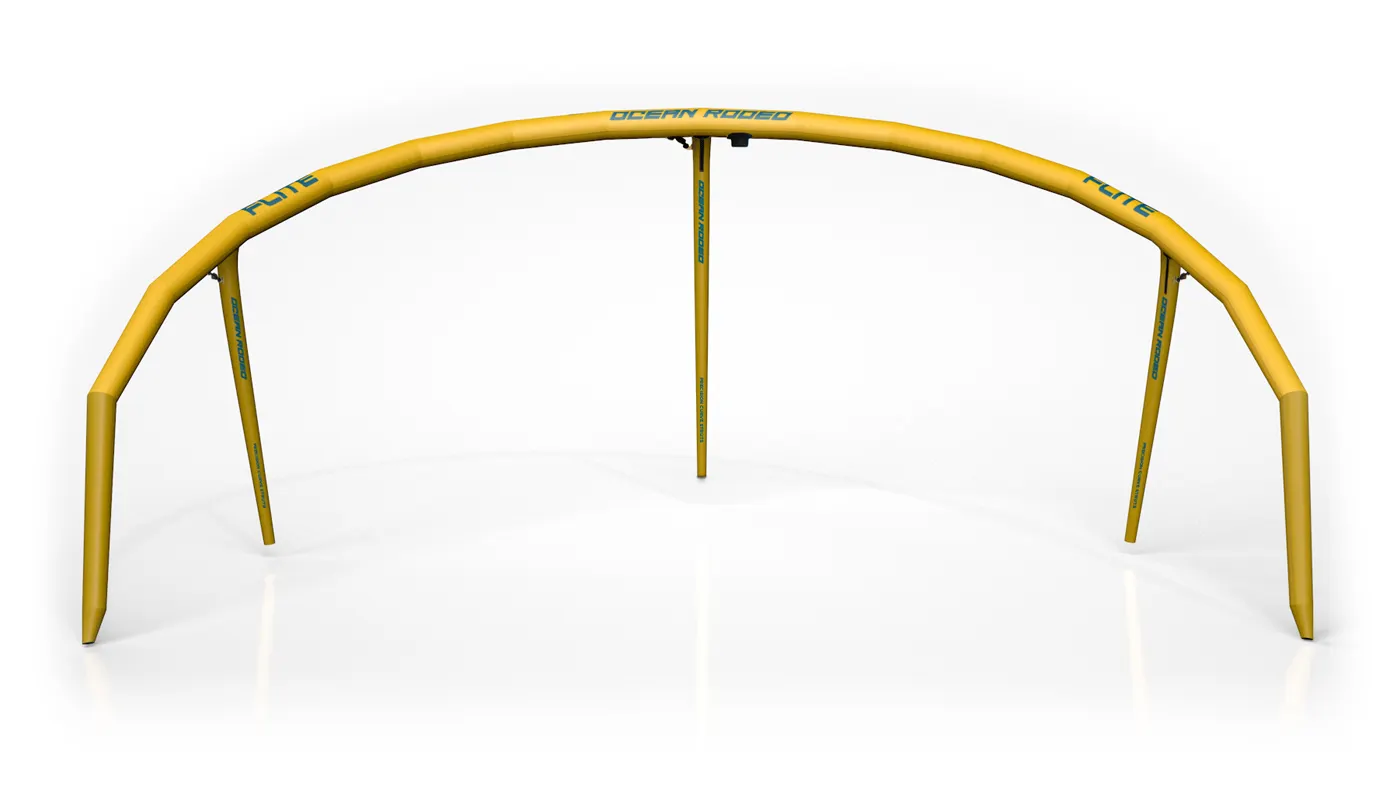 UNRIVALED PERFORMANCE
IN EVERY RESPECT, AIRFRAMES BUILT WITH ALUULA GOLD™ MATERIAL OUTPERFORMS THE COMPETITION.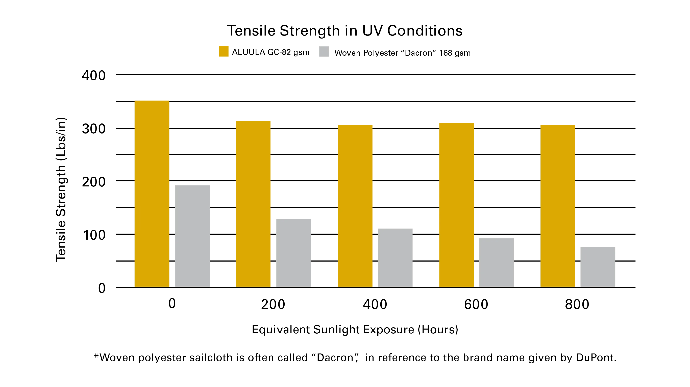 At less than half the weight, ALUULA Gold™ has almost 50% higher tensile strength than "Dacron" when new, and is 70% stronger than "Dacron" after 800 hours UV test in the lab.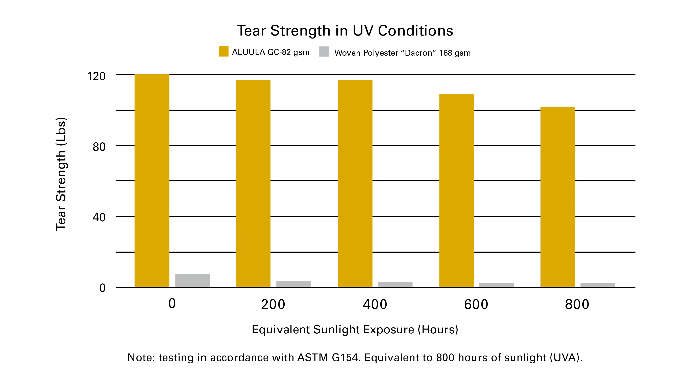 ALUULA is 15 times stronger than "Dacron" when new, and more than 35 times stronger after the same UV exposure.
Tensile Strength (Warp / Weft)
Tensile strength is a measurement of the force required to pull something such as rope, wire, or a structural beam to the point where it breaks.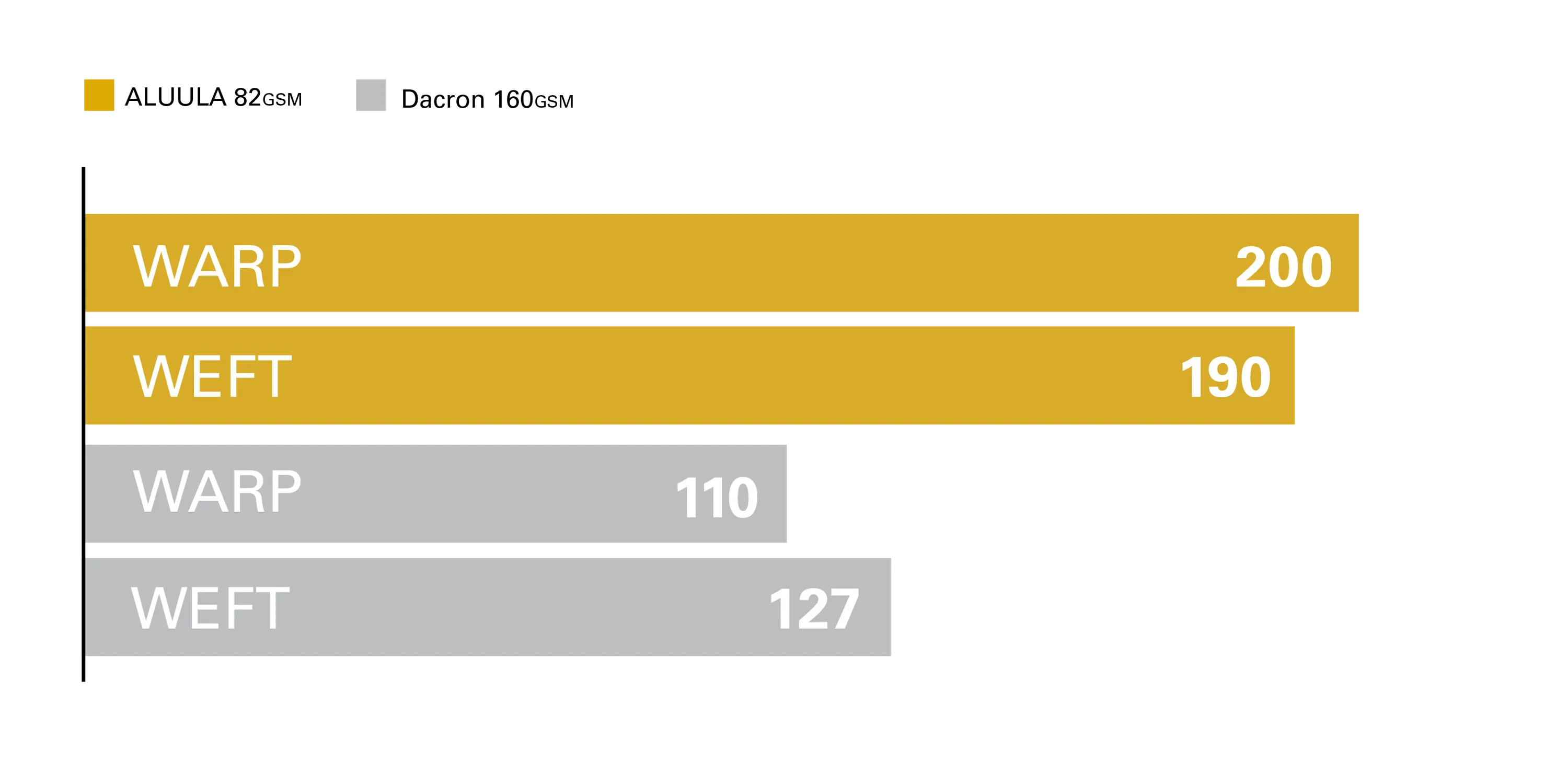 Moduls (N/mm2)
Modulus of elasticity measures a material's resistance to being deformed elastically (not permanently) when stress is applied.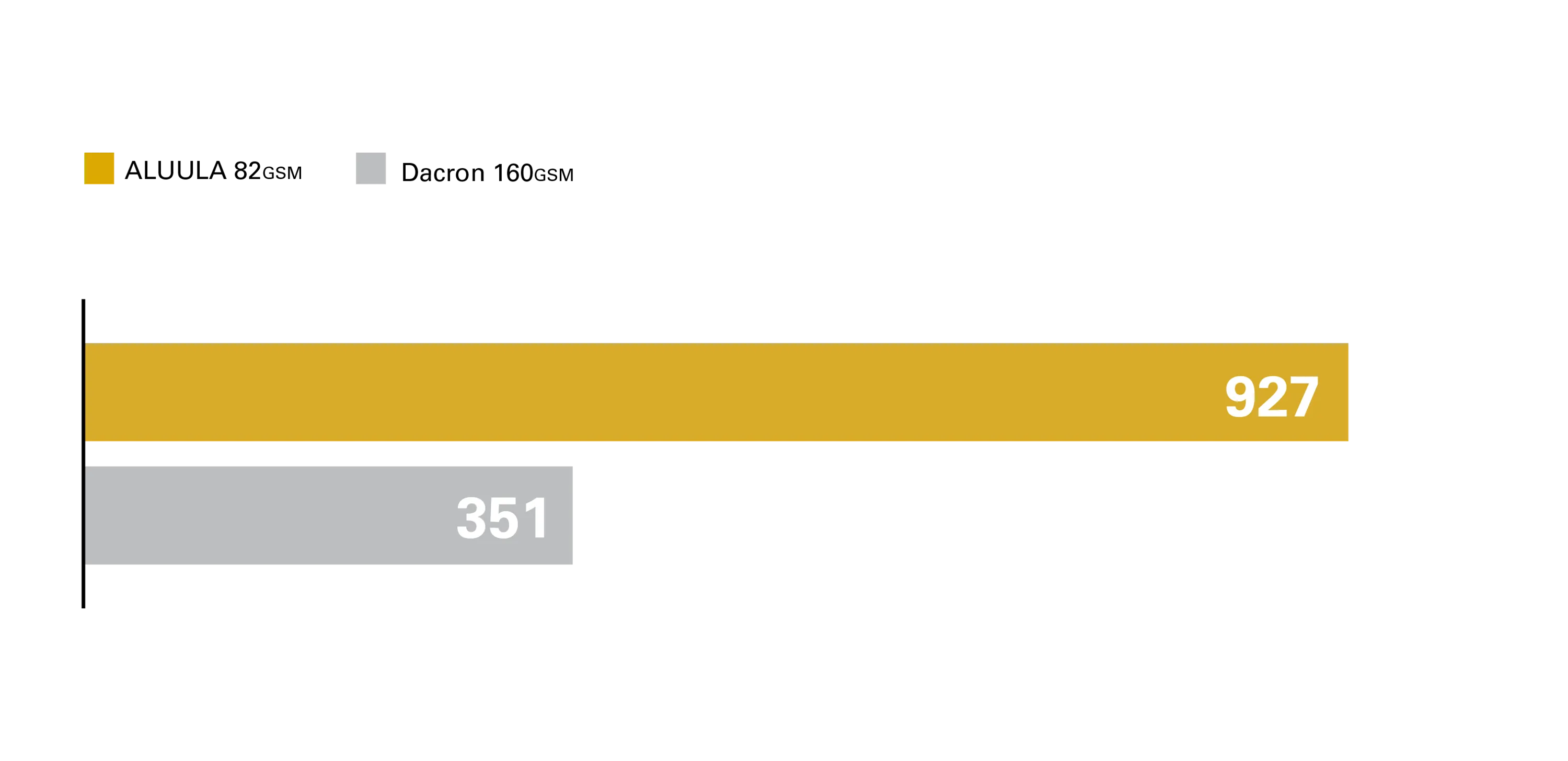 Tear Strength (Lbs of force)
Tear resistance (or tear strength) is a measure of how well a material can withstand the effects of tearing.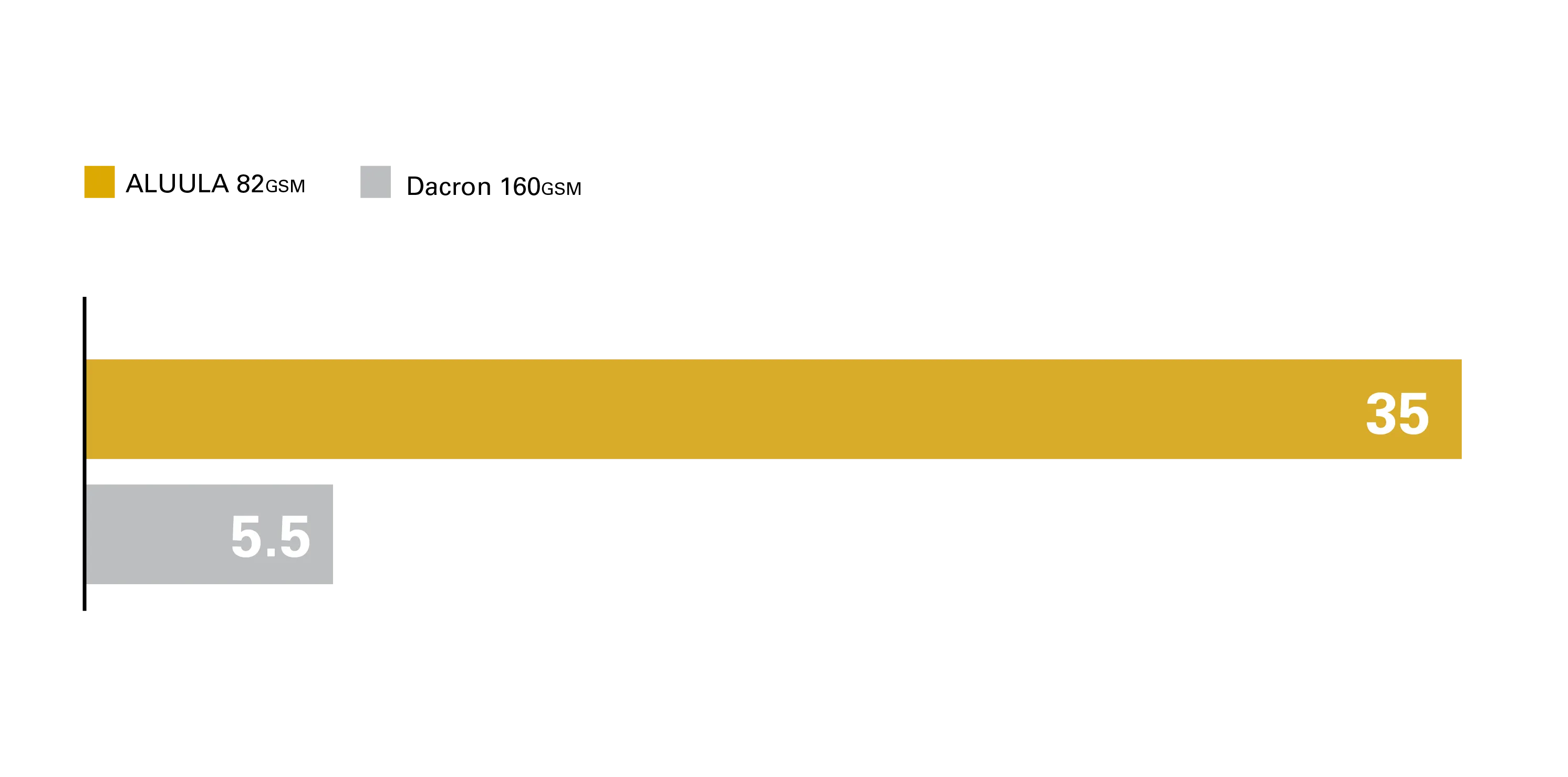 WHY ALUULA?

Because a lighter kite means a better ride.
ALUULA, an ultra-light, ultra-strong and stable composite material, not only improves light wind performance but also increases handling, stability and flying performance in all wind conditions. This makes an ALUULA kite more efficient than a standard kite, performing better in all respects, including speed through the air, turning speed and light wind stability.
Why do you need the lightest kites on the market?
Better for freeride, freestyle and surf riders. With more response in all departments and in all conditions, you'll enjoy faster snaps, loftier hang-time, better drift and the confidence to ride even when conditions are marginal.
Better for boosting and hang-time. With a kite that's half the weight and has a stronger airframe, you have a confidence-inspiring boosting machine. You can also generate power on both your down and upstroke… Something that was unheard of in kite performance until now.
Better wind range. Because the kite is 3-struts, and yet as light as some no-strut kites, the same kite will deliver rock-solid performance and stability at the top end of the wind range, as well as in extreme light wind.
Better relaunch. Simply pumping one back line will cause the airframe's stiffer flex to work the kite out onto one wing tip, and into the air. The A-Series kites are easier to reverse launch in light winds too.
Better for learning. You'll find your level improves immediately with an A-Series kite. Flying the kite is easier during all manoeuvres as, due to the lighter weight, an ALUULA kite resists both flying too far forward, and back stalling.
Better for travel. When two A-Series kites weigh the same as one traditional kite, it's a no-brainer… More kites on your trips means more time in the water.
LEARN HOW USING A LIGHTER KITE WILL IMPROVE YOUR RIDING.
Enter your name and email to get started…
No spam, no worries. Read our privacy policy here.
In our three part email series, you'll find out…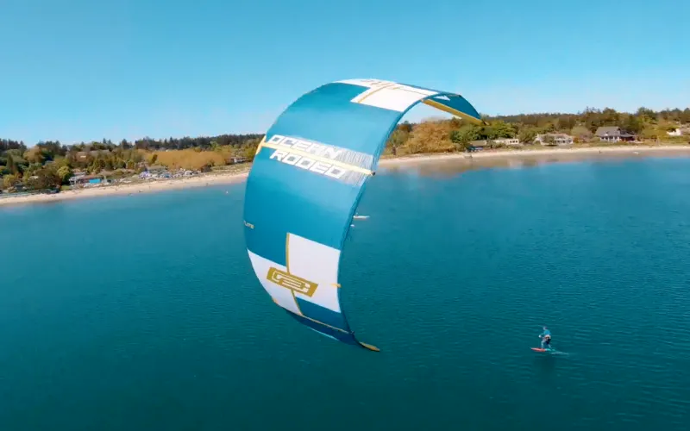 In our three part email series, you'll find out…
Why opening up the wind range means more time on the water...
How to move your riding forward!

With input from international team riders and our very own founder Richard Myerscough, this 3-part email series explains how lighter kites can be extremely beneficial to your riding, and how they're going to push the sport of kiteboarding forward dramatically in the coming few years. You'll also get to find out a little more about the mystical ALUULA material and how, now that the A-Series kites are publicly available, this material is set to change the game as we know it…

OCEAN RODEO
Proudly endorsed by Export Development Canada and Innovation Canada