Carla Herrera Oria Lands 2nd Place at National Wingfoil Race
Having sat in the strapless freestyle throne, Carla Herrera Oria is on the hunt for a new crown. Last weekend, the 2019 Strapless World Champion traded in her surfboard for a foil at the Spanish Wingfoil League Chiclana 2021 in La Barrosa. The Spanish-native competed in the premier races of the National Wingfoil Circuit, landing herself a 2nd place finish at her first ever wingfoil event. 
"Stoked to take the 2nd place in the race at my first wingfoil contest," she said after the race. "I still have a lot to learn about it and there are a lot of improvements I can make."
Carla said she used the event as an entry point to gain insight into the young sport and experience how the racing is conducted. She went on to say she's enjoying the feeling of being a beginner again. 
"Everytime I go on the water I learn new things and tricks and that keeps me very motivated. I see there is massive room to improve in both disciplines," Carla continued. " I really enjoy learning something new."
The conditions at the national lined up, with the famous Poniente wind providing lots of action on the water, and not least from Carla on her A-Series Glide. The Ocean Rodeo wing is the result of an revolutionary partnership with ALUULA – a new composite that is stronger and 40% lighter than the industry standard. Carla credited the wing as a large component to her podium finish. 
"Equipment in wingfoiling is key for performance," she said. "We had some races with very low wind and that was when the ALUULA Glides out performed. The wings are super light and stiff, it allows you to get speed in no time."
The material is proving to be a game-changer in the wing world. Ocean Rodeo team rider Mathis Ghio has quickly been rising up the Wingfoil World Tour standings with his A-Series Glides. Last month, he surprised the tour, landing a 2nd place finish in the Race World Cup in Dakhla, Morocco. 
"During races, the A-Series wing was so stiff. It allowed me to push strong competitors, like Titouan Galea, out of their comfort zones," Ghio said at the time.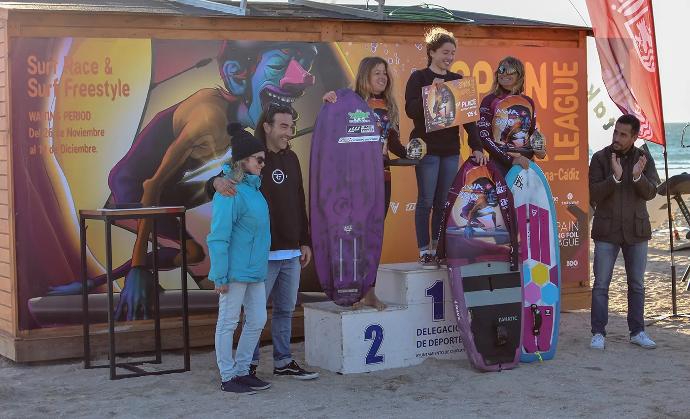 The stiffness and lightness as a result of the ALUULA composite creates a very fast wing, the Glide's designer Ross Harrington noted: "The A-Series is truly next level, with its full ALUULA airframe the A-Series is quite simply the stiffest wing on the market by a significant margin. The ultra-stiff and lightweight wing stays stable in over powered conditions extending its usable range, while at the same time excelling in the lighter conditions due to the stiff leading edge and extreme low weight."

Carla will be back racing wingfoils in her hometown at the end of December, as she plans to compete in the GWA Wingfoil World Tour in Tarifa. 
"Let's see what happens next year," she said in terms of her budding wingfoil career. "Right now I'm very motivated and enjoying every time I hit the water."