Backline trim's new standard.
Our iconic Shift bar is suitable for all riding styles, and is particularly popular amongst wave riders and freeriders. Entering its 4th year in production, and fast becoming the future standard of kite control, the Shift has a backline trim that provides reliable and seamless power adjustment, all within easy reach, and without having to take your eyes off the water.
Further new refinements include a reduced diameter grip, resulting in a more direct and tactile feel between the kite and bar. The diamond grip texture has also been refined, making it less aggressive on the hands while still delivering exceptional grip for all riding styles and in varying environmental temperatures.
Other new features include crank stops at the tips of both bar floats, and further refined gearing in the pawl winder assembly for precision trim control every time.
The Shift outfits with the new Gen 9 Punch Out Trim Loop and freeride Leash. ISO 21853 compliant, the new trim loop and leash are loaded with exciting new features to enhance your ride while delivering reliable release and depower flag out.
Bar Length: 52 cm
Line Length: 22 m
PUNCH OUT SAFETY
GEN 9 PUNCHOUT TRIM LOOP
Featuring single handed click in reset! (ISO 21853 certified)
The Gen 9 Trim Loop sets a new standard in ease of use, security, and is loaded with exciting new features to enhance your ride while delivering reliable release and depower flag out.
The new trim loop has been made significantly smaller allowing the trim to be comfortably within reach, without sacrificing the throw length.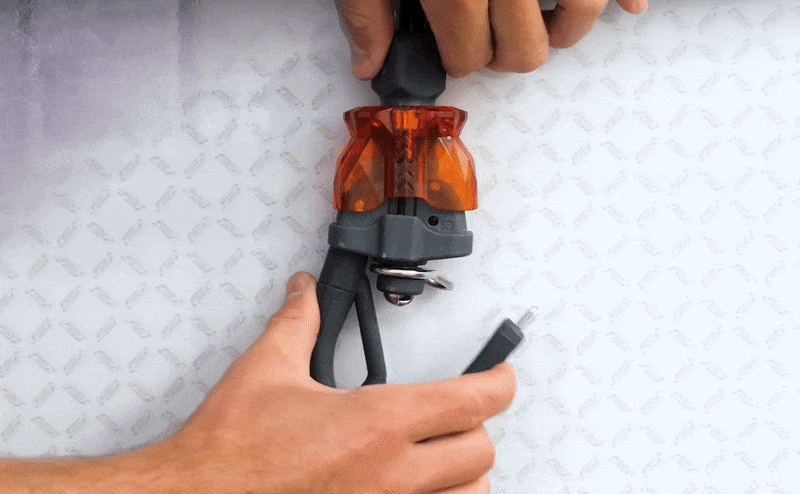 EASY AUTO RESET
(Patent No. US10843777)
The push release cuff remains held in the open and ready-to-reset position at all angles of release. Simply push the free end of the trim loop into the reset chamber and the release cuff automatically snaps back into position.
For added security, the stainless steel release pin is shrouded by the release cuff, guarding your hand from release pin motion during activation.
The push release cuff features an ergonomic grip. A smooth surface on the back side of the cuff reduces accidental activation of the release cuff against the bumps and bangs encountered while riding.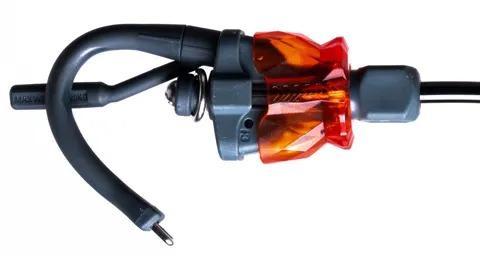 BELOW BAR SWIVEL - THE ROTO HUB
The "Roto Hub" has been further refined, delivering smooth line twist management.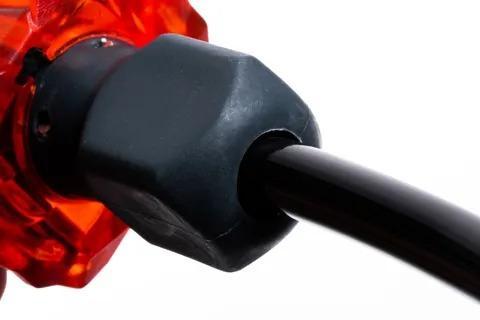 QUICK CHANGE TRIM LOOP
Swapping trim loops has never been quicker. A standard fin hex key is all that's required.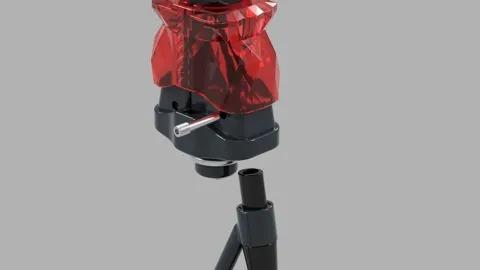 TRIM LOOP RETAINER
Holds the trim loop in place in the event of slack line or extreme sheeting angles, reducing the chance of unwanted unhooking. Secure lock design between the trim loop retainer and trim loop minimizes false unhooking.

BAR FEATURES
SIDEWINDER
TOTAL TRIM CONTROL WITH ONE KNOB
Twist the Sidewinder to add power, bump or nudge to depower. Quarter turns deliver 1cm of trim, five full rotations sheets in 21cm of direct 1:1 trim adjustment! Instantly depower your kite with a swift downstroke motion on the knob or bump for incremental depower. With only one moving part, the simple open design allows rapid flushing of debris, easy inspection of all parts and simple maintenance if required. With your trim control always within reach, trim adjustment become intuitive and can be made while riding without needing to take your focus off the water ahead.
Note: Sidewinder delivers 1:1 total trim adjustment of 21cm, or 42cm of traditional 2:1 cleated pulley line depower.
GROOVE BAR
52 CM CARBON COMPOSITE BAR
The Groove Bar's carbon composite build delivers unparalleled strength while setting the new standard in lightweight bars. Ergonomically shaped for comfort, the under bar U channel houses the trim line and is easily flushed of all debris, ensuring smooth and reliable trim adjustment every time. Plush molded EVA grip with integrated bar floats deliver float, superior grip, and tangle-free back lines. Retracting bar end bungees keep your flying lines snug and secure during storage.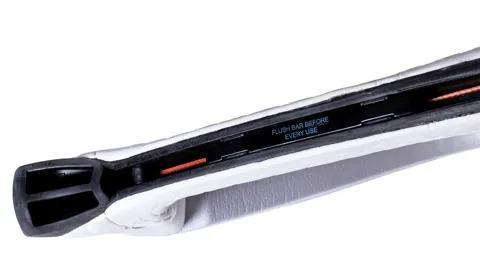 DIAMOND GRIP
A reduced diameter grip, resulting in a more direct and tactile feel between the kite and bar, and a diamond grip texture which has also been refined to make it less aggressive on the hands while still delivering exceptional grip for all riding styles and in varying environmental temperatures.

'HOUR GLASS' BAR OPENING
Made with marine grade stainless steel, the center hole is highly tapered to accept the rugged 12mm PU tubing. The refined shape delivers smooth sheeting at extreme angles.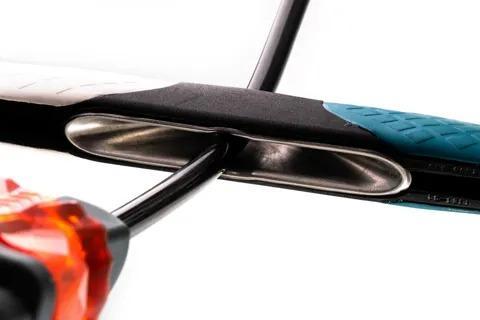 HELIX FORCE TENSION
LINE PAYOUT SYSTEM
(Patent Pending)
Now featuring a new crank stop at the top of the bar float preventing overwinding, the Helix Force Tensioned rear lines ensure clean paying rear lines even with slack back line. This feature is crucial when rigging on the beach, allowing you to easily depower your kite before launch, even with no tension on the back lines. Helix Force Tensioning provides perfect spooling every time, regardless of line tension from the kite.
G Stop
ON THE FLY STOPPER ADJUSTMENT
(Patent Pending)
The easily adjusted, single handed, on-the-fly bar stopper! The Shift's ultra clean front line set-up offers up to 1.2 meters (3'9") in sheeting range. Realize the full sheeting range of your kite by pushing the stopper out to your maximum reach. New riders can slide the stopper completely out to maximum throw for near total depower on SLE kites by simply just letting go of the bar. All styles of rider will appreciate the flexible stopper positioning for specific moves.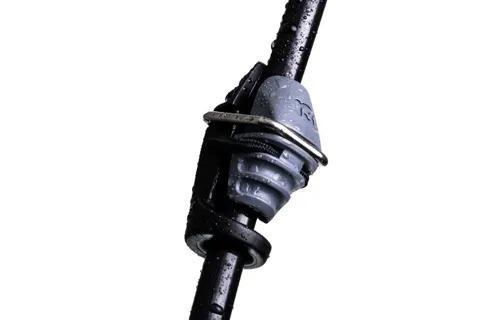 RELAUNCH BEAD
KITE RELAUNCH ASSIST
Relaunch beads are located on the back line leaders just above the ends of the Helix Force Tension system. They offer an easy spot to grip if a back line pull is required to expedite water relaunch.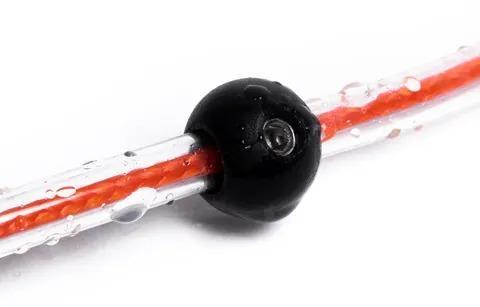 ROTO BIT
LIGHTWEIGHT LINE SPLITTER
(US Patent 10,427,766)
Dynamically synced to the Roto Hub allowing no way for line twists within the line tubing. This ensures easy front line flag outs and makes line twists easy to sort out on the water.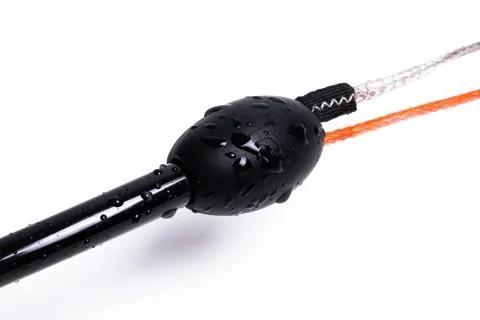 PREMIUM LIROS FLYING LINES 

German made Liros DC 401 Ultra HD flying lines, tested to 580 kg (1275 lbs). Lower sections of front lines are Liros D-Pro. Lines are coloured for easy rigging. Front line re-ride is orange for easy identification while resetting the system.

PIG TAILS
Compatible with all 4 Line Kites
The Shift ships with an assortment of premium pigtails, ensuring compatibility with all major kite brands. Each pigtail is individually marked with length, allowing you to also adjust for eventual front line stretch.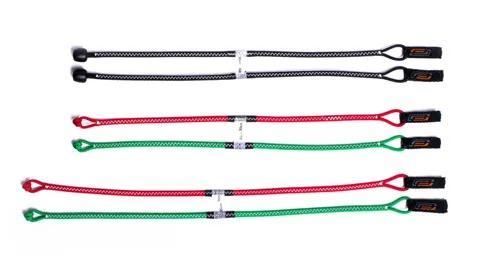 GEN 9 FREERIDE LEASH
ISO 21853 certified
This new leash is composed of a HD Spectra line sheathed inside a rugged 8mm urethane tube and features a refined stainless steel carabiner that is lighter, smaller and stronger than previous designs.
The carabiner is housed inside the EVA float and pre-tensioned carabiner garage, reducing the chance of line snagging.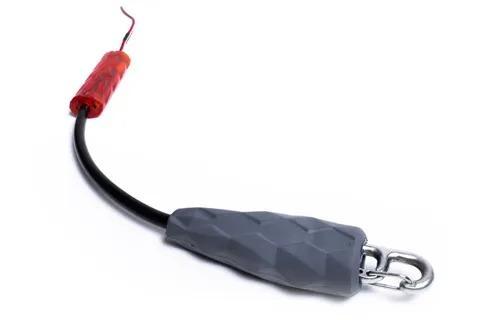 BAR BAG
Features a coil zip for easy access, mesh panels for quick drying, and an inside pocket for pigtail storage.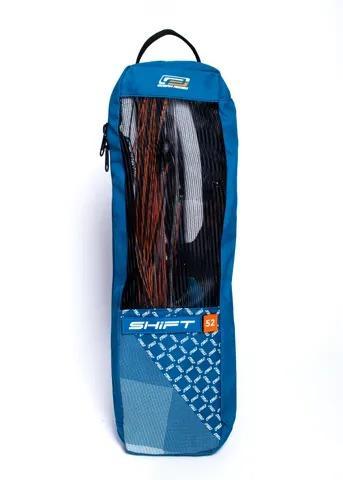 There are two big advantages with these designs. Firstly, your trimming controls are positioned on one end of the bar, so are very easy to reach without having to lean forward. The second lovely advantage is that the centre line that runs up through the middle of your bar is very clean in front of your eye line, as there's no cleat there with any flapping rope/webbing.